A skilled roofer covering Denby Dale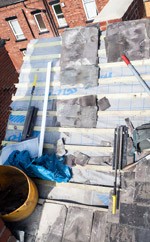 If you live in or around the Denby area, now you can choose a company that will ensure all your roofing needs will be met, without the need for concern on your part. Whatever size of the job or emergency - whether a felt roof needs repairing, gutters need to be tended, you have an interest in an upgrade to UPVC fascias and soffits, or a whole new roof might be required - we're the local roofing experts who can help.
With an excellent reputation gained through years of tackling roofs across the area, amassing a huge number of customers in the process, delighted with our work - we're absolutely certain that we can fulfil all your specifications with professionalism and efficiency.
An array of roofing services
We'll be pleased to discuss your roofing requirements and provide a free estimate for the following options:
General roof repairs
Flat roofing
Fibreglass roofs
Slating & tile work
UPVC fascias and soffits
Chimney repairing
Guttering services
Velux windows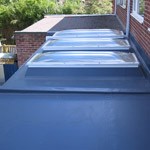 We strive to provide peace of mind to each and every customer, always aiming to ensure that you will receive not only a free estimate on all work that needs to be carried out - meaning you need not commit yourself immediately – but also promising a full customer satisfaction guarantee.
If you plan for new installations on your roof or roofline, or simply need help or advice with an emergency, call us today on 01484 899180.