Huddersfield Rubber Roofing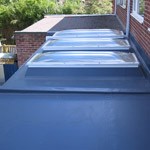 When choosing a material for your roof, it's important to be aware of the benefits. Rubber roofing (or EPDM) in particular, has many aspects that make it a popular choice for covering garages, outbuildings, and various other types of flat roof.
Rubber, as a material, boasts durability, since being easy to both repair and maintain. It's great at insulating your property or, alternately, keeping it cool during the summer.
It's important to keep in mind, though, that in order to get the most from a rubber roof, it needs to be fitted properly. To prevent water damage and get the best possible results, turn to an expert.
Experienced professionals in rubber roofing
Thanks to years of carrying out roofing jobs throughout the Huddersfield area, we've amassed a wide and satisfied customer base. There are several aspects to recommend us when it comes to helping with EPDM roofing in your home:
With us, on all our rubber roofing work
All work comes full, written guarantee
You're assured of absolute quality
Your roof will be fitted by trained experts
As a company that's been built on providing outstanding customer service and establishing a reputation for reliability and efficiency, we strive to always ensure safety and security when it comes to your property. We make certain that you're always aware of what needs to be done and what our services will entail.
If you're planning to install, repair or replace an EPDM roof, get in contact with us to have all your questions answered, on 01484 899180.