GRP fibreglass roofing for Huddersfield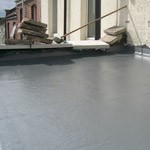 Fibreglass, often known as GRP, is just one of the range of materials possible when constructing a flat roof. While it's commonly chosen for durability and strength, it also requires relatively little maintenance – always a bonus when it comes to your home.
What's more, fibreglass is available in several different colours and, due to the method in which it's fitted, there are no joins to allow water in and cause leaks and subsequent damage. In comparison to other types of roofing materials, it also has a far longer life span.
When choosing options for your property, now you can work with professionals who aim to help you make the best choices when it comes to your roof, in order to produce outstanding results.
Fibreglass Professionals in your local area
Choosing an experienced team to carry out any work is of utmost importance when it comes to your roof, meaning you can avoid unnecessary problems or delays. We're a company that can offer:
Free estimates on all work, no obligation required
Plenty of experience in fitting fibreglass roofs
Full guarantees on every roof fitted
Excellent results for flat roofs
Years of fitting, repairing and replacing fibreglass roofs across the Huddersfield area has helped us develop a reputation for high quality customer service, no-nonsense direct advice and, most important of all, extensive experience with the materials and techniques needed to provide you with a secure, long lasting roof.
For all enquiries, requests and emergencies concerning your GRP roof, get in contact to find out how we can help. Call us on 01484 899180.