Gutter repairs in Huddersfield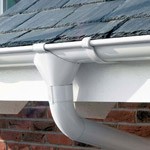 Maintaining guttering is a crucial part of keeping your home secure and dry; however well fitted and maintained a roof might be, all that effort can be wasted if the water it keeps out isn't efficiently drained away. Ensuring that proper drainage be sustained is essential.
Even minor water damage, or simply the effect that time and the elements can have on your gutters, mean that it's wise to prepare for inevitable repairs or replacements.
When it comes to fitting, repairing or replacing your gutters, we have the experience and reliability that comes from several years of helping with installations or repairs across the Huddersfield area.
Serving the Huddersfield customer
Whatever your problem or question might be, we work with you every step of the way to get the best results possible for your home.
By choosing us to improve your property, you can also be certain that you've picked a team which provides
Fully experience in fitting and repairing gutters
Guaranteed satisfaction on all work
Assurance that free estimates are provided on all work
Always aiming for highest quality
If the guttering on your home or property needs a check up, there's damage that needs to be repaired or you're considering a full replacement and new system, choose a company that's able to offer you expertise, a wide variety of services, full guarantees and free, no obligation written quotations.
Call us now on 01484 899180.