A high quality roofer in Meltham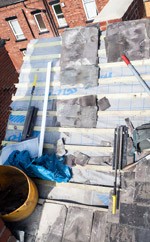 Wherever you might be in the Meltham area, choose a roofer who can provide services and options for any number of roofing tasks - from dealing with slipped tiles or slates to repairing or replacing guttering, and even carrying out new roof installations.
We're absolutely confident that you'll be fully satisfied with our work, since our reputation, affordability and the fact that we offer a wide range of services have built us an excellent name throughout the local area.
A wide range of roofing services
Whatever project or emergency you have, we have the skills and the know-how to deal with and resolve it to the highest of standards. We can offer:
Flat roofing of all types
Velux roof windows
Fibreglass roofing
All slating and tiling
General roof repair
Chimney repairing
Guttering
UPVC fascias
Aiming for peace of mind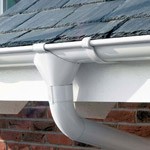 Your chosen roofing company should always be made up of people you know you can trust, especially when it comes to prices and the quality of work carried out. Our satisfaction guarantee on all jobs should convince you that we take your concerns seriously, and in addition we also offer a free estimate on each and every job
If you're in Meltham and need a roofer, call 01484 899180.